4 August 2022
Announcing a New Latin Book for Young Children!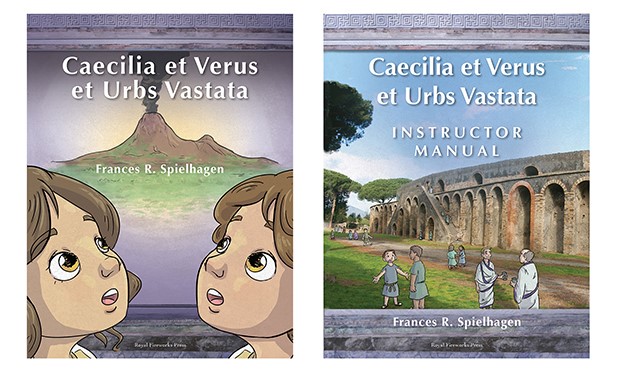 Cecilia and her brother Verus are back to teach children Latin with the third installment of our Latin curriculum series: Caecilia et Verus et Urbs Vastata.
Having trouble pronouncing that title? Don't worry! We know that Latin pronunciation isn't something we hear very often these days. That's why our Latin books come equipped with download codes right inside the front cover so that you can go to our website, plug in the code, and play audio of the books being narrated by the author, as well as questions and answers in Latin for each chapter. That way you can be certain that kids are learning to speak Latin correctly.
This illustrated book for young children continues the story—in Latin—of Cecilia and her brother Verus. In this book, the children learn about the eruption of Mount Vesuvius, which destroyed the cities of Pompeii and Herculaneum, thus preserving them for future generations to discover. Even young children can make meaning of the Latin in this story through the engaging illustrations and photographs, as well as repetition of the vocabulary. An instructor manual walks adults through the specifics of the language and provides background on the historical events in the story.
Check out all three of the books in the Caecilia et Verus Latin series, each with a helpful instructor manual and audio downloads. If you'd like your child to learn Latin directly from the author herself, sign your child up for any one of the three Latin courses in our Online Learning Community. Help your children learn an integral part of a classical education today!