1 February 2021
New Books that Tell the Story of Early America
Ouch. That last nickname is barbed. It's also unfair.
The middle region of the United States is vitally important to the rest of the country, yet it often is seen as less interesting than the areas along either coast—and certainly less worthy of anything more than a passing glance. But the Midwestern and central states make up a critical part of the economic and cultural fabric of America. Historically, the coasts were separated by an enormous swath of untamed land that was virtually impassable until it was settled. So in 1862, President Abraham Lincoln signed into law the Homestead Act, giving people the opportunity to own land for a pittance if they were willing to work for it. It was a historic decision on the part of the government; it was a monumental achievement on the part of the homesteaders who took up the challenge.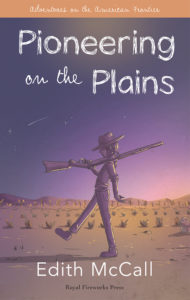 Now we are pleased to offer books that tell the stories of two of the people who tried their hand at homesteading: Pioneering on the Plains. The first story follows young Hamlin Garland, whose father moves the family to Iowa, where Hamlin is distressed to discover that not a single tree breaks the horizon. For the life of him, he cannot understand what his father sees that makes him want to live in such an empty space, but time and experience teach him that there is more to appreciate than first meets the eye. Hamlin's story is a touching narrative about the experiences of a child growing up—in more ways than one—in the Midwest of the late 1860s.
The other story is about Howard Ruede, an ambitious young man from Pennsylvania who thought he'd head out to Kansas to set up a homestead and then bring his family out to join him. He had no idea of the hard work that was in store for him, and he nearly gave up the effort. His story is revealing as readers discover with Howard the many things he hadn't considered when he'd left home that almost foiled his plans. It turns out that homesteading was grueling work that required grit and determination and resilience. Flyover country? Hardly. These people were battle-scarred and tenacious. Nature is a formidable adversary.
These stories are offered in two formats: a novel that contains both, and a set of two books that include special features for children who struggle to read—part of our larger effort to reach children with dyslexia and other reading disorders. Modifications include a special font, wide margins, and an audio feature so that kids can follow along as narrator Chris Tice reads the story to them through the magic of QR codes and smart devices. After all, these stories are too good—and too important—for children to miss just because they need accommodations to read them.
Pioneering on the Plains is just the latest in our collection of Adventures on the American Frontier books, all of which are offered in both novel format and also a series of dyslexia-friendly books. Together they tell the stories of some of the people who helped to shape the U.S. Check out the entire collection, and welcome your child—no matter how strong a reader—into the true stories of American history!