28 June 2021
Our Favorite Novels, Just in Time for Summer Reading!
We're pretty selective about what we choose to publish. We're proud of the high quality of our products, as well as the high level of intellectual heft that many of them offer to children. We have a huge catalog of offerings, and some of them have been out for a while. We revisit those from time to time, and sometimes we make the decision either to re-release them or to put them out of print. We've been reviewing our novels lately, and three of them stand out as some of the best books we've read—not just in our line-up, but, frankly, in all of the books we've ever had the pleasure of reading. These novels are truly among the most beautifully written, most profoundly moving stories we've ever read. So even though they haven't been out for all that long, we decided to polish them up and reissue them for summer reading. After all, most of us are going into this summer feeling a great deal of relief after the stress and tension of a nightmarish 2020. Time to reward ourselves with a little R&R, which includes some lazy days with a great book or two!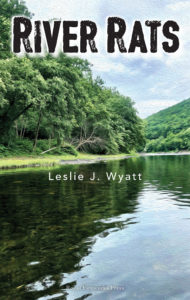 Speaking of lazy summer days, the novel River Rats, by the immensely talented Leslie Wyatt, takes us into the lazy summer days of Kenny, a boy in 1940s rural Missouri who spends his afternoons with his older brother Jim and his best friends at the Chariton River, swimming, fishing, and generally enjoying life. But Jim has become a bit of a bully lately, and when a new boy, Henry, moves into the area, Jim's bad behavior escalates. Kenny likes Henry, but each time he witnesses Jim's mistreatment of him, his fidelity to his brother prevents him from intervening. Set against the backdrop of World War II, Kenny's inner struggle is a reflection of the horrors unfolding across the ocean. He feels paralyzed to act for fear of betraying his loyalty to his brother, but his conscience won't let him rest while Jim's abuse toward Henry becomes increasingly vicious. Kenny must choose, and the choice is agonizing. This is a deeply moving story of love and loyalty, told in the authentic voice of young Kenny.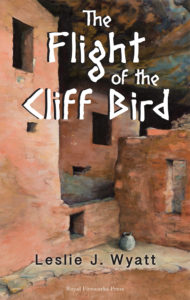 Readers who appreciate the creative talent of author Leslie Wyatt will also enjoy her novel The Flight of the Cliff Bird, the story of a girl of the ancient Puebloan people who lived in what is now Mesa Verde, Colorado. Cliff Bird's father left long ago on a trading journey and never returned, and her mother has since died. Now her aunt and uncle must care for her as she waits, ever hopeful, for her father to come back to her. It's a difficult situation, made worse by the fact that she simply doesn't fit in. She is fleet of foot and artistically talented, but her family sees her as a burden, and she feels the strife of daily battle against her cousin Summer Sky. The two girls are constantly at odds, and it is a source of stress and frustration for both of them. But there are larger concerns: their people are struggling. There has been no rain, and strangers are lurking, bringing with them the danger of attack. The people talk of moving, but how can Cliff Bird move? How will her father ever find her if he comes back and she's gone? This is a captivatingly beautiful story, told in a double narrative from both Cliff Bird's and Summer Sky's perspective as they strive to understand each other against the shimmering backdrop of the cliff dwellings of the Long-Ago People.
The third novel is also captivating, but for entirely different reasons. In The Weaver's Scar, readers will witness one boy's terrifying escape from the 1994 Rwandan genocide. Faustin is a normal schoolboy, but when the Hutus begin slaughtering the Tutsis, he discovers that he and his family are in mortal danger. Soon his entire family is slain, and Faustin is forced to flee to save himself. But he has an unlikely ally to help him: a Hutu boy, Diego, who was his friend before their parents forbade the friendship. The boys float down the Nyabarongo River toward safety, with death waiting for Faustin at every bend. It is a journey of peril and a witnessing of horrors along the way. And at the end? The boys are unprepared for the tragedy that befalls them. Author Brian Crawford does a masterful job of portraying the horrific events of the Rwandan genocide in a way that prevents readers from seeing the gore that must have been inescapable to those who were there, but yet the novel is realistic, honest, and certainly a nail-biter of a thriller. Its achingly beautiful ending will stay with readers for a long time, and they will never see the events of 1994 Rwanda in the same way.
If these three novels aren't enough (and we promise that you'll be yearning for more good reading after them), then let us recommend a few of our other favorites. Almost any novel by author Paul Sullivan is an excellent choice, especially A Burning of Prayers (about an archaeology dig in a Mayan temple in Guatemala), The Unforgiving Land (about the Inuit people of the Arctic and the white traders who change their way of existence forever), The Spirit Walker (about an African poacher and the elephant he wounds), Keewatin (about a man whose plane has gone down in the Arctic and who is pursued by a great bear as he tries to make his way back to civilization), The Seal Hunters (about an Inuit boy who is captured by Canadian commercial seal hunters, escapes hundreds of miles from home, and must find a way to return to his people), and Breaker at Dawn (about a boy who works in a Pennsylvania coal mine in the late 19th century and whose family must make hard decisions about what kind of a life the children will have if they continue on in the only life they have ever known).
We also recommend the historical novels The Key to Honor and The Price of Command, which follow young Nate Lawton as he takes part in the maritime battles of the War of 1812. Award-winning author Stephanie Tolan's A Good Courage is also noteworthy; it follows young Ty as he struggles to accept (and to be accepted in) the fundamentalist religious commune that his mother has taken them to live in. If you like The Weaver's Scar, you'll also appreciate Strangers in Black, about a young boy's struggle to survive the Khmer Rouge in Cambodia. And finally, the six books of the Homesteaders series offer an in-depth look at the challenges and heartaches of the families who came to America from Norway to homestead the Dakota Territory in the 1860s-70s.
All of these novels offer opportunities to get lost in other worlds—other times, other places, other perspectives, other journeys, whether physical, emotional, or spiritual. They are designed to be books for children, but we promise that they are just as entertaining for adults! Happy summer reading!