25 June 2021
The Adventures Collection Grows Again!
We're pleased to release our newest set of books in the Adventures on the American Frontier series: Resolute Men of the Illinois Country, available as both a novel and as a series of books with special features for children with dyslexia and other reading disorders.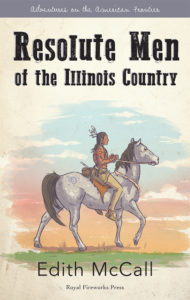 The title of this book may not mean much to some people. Resolute? Weren't all of the early explorers and settlers resolved to succeed in their exploring and settling? Well, yes, but jockeying for control of a huge region of the New World meant that some of them didn't just face extraordinary challenges; it meant that they knew darn well how extraordinary those challenges were, and they pressed on anyway.
The Illinois Country? Who even knows where that is? The Illinois Country is a vast region in what is now the Midwestern United States, primarily the area around the Mississippi and Illinois Rivers in the present states of Illinois and Missouri. The land is fertile, and the Mississippi River made for an ideal highway to transport goods and people. Once you realize that, you understand why men worked so hard to claim it for their home countries. Even before they knew what the rest of the New World had to offer, they knew that the Illinois Country held a wealth of promise and opportunity.
We invite readers into the stories of three of these men: France's Robert La Salle (along with his trusted friend Tonti), the Native American Chief Pontiac, and George Rogers Clark, who fought for control of the region on behalf of the British-Americans. Even though we know the ending to this drama (spoiler alert: George Rogers Clark prevailed), the struggle to keep the land out of the hands of others was a long and hard one, and La Salle, Tonti, Chief Pontiac, and Mr. Clark fought for their lives as much as they did for the lives of their people. This is tough stuff.
The novel tells all three of these stories. The dyslexia version is split into three separate books, also available as a set, that include special features such as dyslexia-friendly font, wide margins, and audio of the books being narrated. Both editions include illustrations.
Here is a sample of the narration:
Resolute Men of the Illinois Country is the latest addition to our Adventures on the American Frontier collection. There are lots of books to choose from on different areas of the country and different topics of focus. There's sure to be one (or many!) to trigger the interest of even a reluctant learner. Best of all, kids won't forget the stories in these books. They offer fascinating peeks at history in a way that traditional textbooks fail to do.