14 September 2021
With a Book about Texas, the American History Collection Is Complete!
We're excited to announce the publication of the last set of books in the Adventures on the American Frontier collection: Brave Men of Early Texas. This set of books, available as both a four-chapter novel and a series of four dyslexia-friendly books, chronicles the colorful and tumultuous history of Texas, from the first European explorers to set foot on it (Spaniards), through the time of La Salle's attempts to settle it (an accidental move on behalf of the Frenchman, as La Salle had been looking for the Mississippi River while sailing in the Gulf of Mexico and overshot it by a not-insignificant distance), on to the establishment of the city of Austin by an American father/son duo by the name of (you guessed it) Austin, and finally to the fateful story of the battle of the Alamo, a tragic tale that is the embodiment of the American spirit.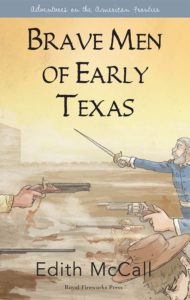 Both the novel and the dyslexia-friendly books are delightfully illustrated, but the dyslexia-friendly books also feature several modifications specifically designed to assist struggling readers, including a special font called OpenDyslexia. Those books also include an audio feature so that kids who need it can follow along in the text, guided by the steady voice of our narrator, Chris Tice (who is also the above-referenced illustrator). Here are a few samples, which are fun not just for kids who need the extra boost of the narration but also for everyone who loves to be told a good story (so, basically, everyone).
This first audio sample is from The Austins Come to Texas, about Moses Austin's early attempts to start a colony there.
Later, in Heroes of the Lone Star Republic, we learn the story of how Jim Bowie came to acquire and make famous his namesake knife, which is still popular today, nearly 200 years later.
And finally, there's the famous story of the Alamo and how the people inside had to make one of the hardest decisions that anyone has ever had to make.
Don't miss this exciting series: Brave Men of Early Texas!
There are 14 other sets of books to choose from in the Adventures on the American Frontier collection, covering a wide variety of topics and set in locations all across the country and the waters that surround it. There's sure to be something to pique the interest of every child. This collection was years in the making, and we're excited to bring you the final installment. Check out the entire collection today!