What Parents Say
Cathy Duffy Review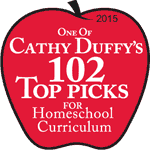 "The five books for each level work together, and literature studies round out the language arts curriculum. Grammar books provide an understanding of the structure of language used throughout all the books. Vocabulary study prepares students to explore a wider variety of literature with understanding. Poetry books feed the imagination for writing and allow students to experience the beauty of aptly chosen words they might have just learned in their vocabulary study. And all of this prepares students to be able to express ideas in their own writing. I suspect that most parents will be inspired by these books, just as I was, since they reveal aspects of language arts that offer beauty and meaning."  
The MCT Language Arts Curriculum is one of Cathy Duffy's 102 Top Picks for Homeschool Curriculum.
---
What Parents Say:
"Your curriculum is our north star."

"The books have inspired a fascination with language, opened worlds of understanding…."

"…they encourage depth, sensitivity, and reflection."

"…my favorite resources."

"I have never been so excited to start a curriculum…."

"Your curriculum is like nothing else we've ever used."

"…fun and interesting."

---
"I suspect that most parents will be inspired by these books, just as I was, since they reveal aspects of language arts that offer beauty and meaning."
– Cathy Duffy, from a review of the MCT curriculum on her website
---
"…Michael Clay Thompson cleverly designed his curriculum to show children how fun and easy learning grammar can be…. The grammar portion is terrific! The practice books are a fantastic reinforcement of everything taught in his grammar books. I was gobsmacked the first time my son did a 4-level analysis of a sentence! He truly has a deep and thorough understanding of grammar, due in large part to the MCT curriculum….
"The vocabulary portion of the curriculum was well thought-out. It contains Latin stems and classic academic words…. My son has already been able to piece together the meaning of words he doesn't know using what he does know of Latin stems and classic words….
"MCT lays the foundation for writing and understanding poetry like no other curriculum I have ever come across. I thought I understood poetry well before reading through this curriculum, but I was wrong. What was taught to me in high school and college barely scratches the surface of what this curriculum is teaching my son. How many 10-year-olds do you know who can write an English sonnet or identify trochaic tetrameter?
"…This curriculum surpassed my expectations. I feel my son could write academic papers at Harvard or edit the NY Times if he continues with this curriculum. It is that good!"
– Anna Chambley, writing for the Gifted at Home website
---
"I'm sure you hear this often, but I wanted to tell you that our family loves your curricula. I have ten-year-old twice-exceptional identical twin girls, each with her own learning style. Up until this year, they have hated and struggled with English language arts. But your program is giving our family small wins in battling the 'I hate school' department. Royal Fireworks has turned the tide in our homeschool. I am learning so much as well. Grateful for the humor and ease."
– Nicole

---
"My mother is a college English professor, and after spending a few days working through the books with my eight-year-old son this year, she said he knows grammar better than most of her students. We are truly enjoying this program, and especially Music of the Hemispheres...a gem of a book!"
– Kristin Thompson, KY

---
"When I came upon your materials, it was like finding Paradise. We had the Level 1, Level 2, and Mud books, but when I saw that you were starting courses, I was so excited! (By the way, my 7-year-old cried she was laughing so hard at the end of The Rescue at Fragment Crag.) I can already see a difference in my daughter's writing after your courses. She absolutely loved all three components of these two classes: grammar (which I think was her favorite), weekly reader response, and the essays. Once she submitted her final coursework, she came home from school that afternoon, and the first thing she said was, 'I miss my mrT classes.'"
– Homeschooling parents' letter to Michael Clay Thompson
---
"Your curriculum is our north star, and it will make all the difference in our daughter's life. What you offer is unique and much needed. We will always be grateful."
– Jennifer and Peter, homeschooling parents
Read their full letter about the MCT curriculum and how it has helped their profoundly asynchronous child.
---
"I want to thank you for sharing your language arts vision through the MCT curriculum. Your books have enriched our homeschool experience and our family beyond the actual content in the curriculum, and for that I am deeply appreciative. For the past six years, my daughters and I have sat together on our couch reading and discussing your books; I count these times as some of my fondest parenting memories and as a gift to our family. The books have inspired a fascination with language, opened worlds of understanding, provoked more Socratic discussions than I can remember, and brought us closer together.
"I recently purchased The Vocabulary of Literature and The Writing of Literature, and I was overwhelmed by how beautiful and meaningful these books are. I was struck again by how fortunate I am to have discovered your program through a Well-Trained Mind forum post many years ago. Even after all of these years, I am still excited about sharing your books with my daughters and now with the ninth grader that I tutor."
– Lynne Holsapple, MO
---
"Out of all the curriculum that I reviewed and tried (and tossed out) during our homeschooling years, your series was the only one that I tell everyone they must use. I credit your LA series for my daughter's 800 Critical Reading and 800 Writing scores on the upper level SSAT when she was 11. If your curriculum were taught in every school, the SAT would have to go back to the more difficult Verbal sections from thirty or forty years ago!
"Thank you so much for creating this wonderful collection of texts to teach our English language and instill an appreciation for great literature while explaining grammar."
– Erin, Cleveland, OH
---
"I want to take a moment to thank you for creating this curriculum. My daughter and I have just completed Grammar Voyage and will be moving on to Practice Voyage today. Your curriculum is like nothing else we've ever used. It is fun and interesting. The tone of the lessons is like a pleasant conversation rather than a dry lecture. I have recommended it to everyone in my homeschooling community. Some of the ladies in my book club are homeschooling mothers, and they have asked me to bring the books with me after hearing me talk about them.
"Another thing that I have been very impressed with is your customer service. I have called your company with a question twice. Both times I have spoken with people who knew the curriculum well and seemed receptive and interested in feedback. I look forward to continuing on with the next level. Keep up the great work!"
– Kristen V.
---
"WOW! These books are really amazing. MCT is the first curriculum I have ever seen that is specifically written for gifted children. Would neurotypical children enjoy it as well? I would think so, but they might need additional paper-and-pencil practice. Since MCT is written with gifted children in mind, there is basically no 'drill and kill' involved."
– Jennifer Bardsley, homeschooler and former kindergarten teacher
---
"Today I pulled out Practice Town, and (my son) immediately exclaimed, 'Oh good!' I asked him why, and he told me that he just really likes it. The other day when I pulled out Caesar's English he said, ' Caesar's English! My favorite!' We started with Level 1 and are working through Level 2. The love is still going strong, so I know we have a winner! This is from a boy who is a very reluctant reader/writer, and grammar was never a subject that got him excited. Ever. I used to hear groans instead of seeing the current smiles."
– J.G.
---
"Our family has benefited immensely from your grammar and writing program. Thank you for articulating methods for constructing and grading essays in a way the average layman can apply. Thank you! Thank you!"
– Lori H.
---
"Thank you for such an astonishing language arts program. I literally had tears (of joy) in my eyes the first time I looked at one of your books!"
– Mary DeLia, homeschooling parent and poet
---
"Michael's love of language and learning is evident in all his material, and I continue to have moments of sheer delight as we progress through his curriculum."
– Dana I., OR
---
"I find that the Michael Clay Thompson books are so useful that I go back year after year for review and to get new ideas even after we've finished a book. It would be impossible to put a price on what we've gained from the series. I only wish all the materials I've bought over the years were as useful as MCT!"
– Elizabeth Pyle Ross, homeschooling parent
---
"The interest in words and what they mean has really shot up in our household…. Thank you for not dumbing down."
– Julie, TX
---
"I haven't bothered with much language arts with my son because so many materials make me nervous, and I can't bear putting my son through that. And then came Michael Clay Thompson with his wonderful materials, and the scales fell from my eyes, and now we are a family of language lovers. We cuddle up on the couch and read them together like bedtime stories (sometimes in the morning). We both really dig them. Fun is had by all."
– Homeschooling parent
---
"These are my personal favorite resources for grammar, vocabulary, and etymology (word roots), as well as introductory studies of poetry and philosophy…."
– Julie Shepherd Knapp, owner of the Homeschool Diner resources website
---
"We have found these Michael Clay Thompson books to be our favorite things to read together. We have so few books written for the erudite learner that we simply enjoy them."
– Miriam, homeschooling parent, MD
---
"I just received Paragraph Town, Essay Town, and the corresponding workbooks. I have never been so excited to start a curriculum, probably because I can see many areas where I can learn with my daughter. I also bought Classics in the Classroom. I am astounded at Thompson's ideas. I have thought for a very long time that we should be approaching literature education in a different manner, and Classics in the Classroom seems to be the way to go. I promised my daughter that we wouldn't start something new until this summer, but I don't know if we can wait. She has already read the first three chapters of Paragraph Town in anticipation!"
– Britta S.
---
"I find the materials extremely rich and imaginative. The language is just such a treat. Thanks, Michael, for your work and dedication to providing appropriate and beautifully crafted materials for our special students."
– Connie Bernard, B.A., English Literature
---
"I think what makes this a gifted curriculum, and not merely a speeded-up curriculum, is not just more stuff at a faster pace—the books encourage depth, sensitivity, and reflection as well."
– Shaun Strummer, Ph.D., English, editor and homeschooling parent
---
"With this group I get my own education and an understanding from all the parents who have done this before me, as well as the thoughts of the author himself. I feel like this group is my unofficial college course on how to teach language arts. Thank you."
– Ami