Why the Ford Model-T? The Reason for Our Logo
Many people wonder why we use the Model-T in our logo at Royal Fireworks Press. To be precise, our logo is a 1914 Ford Model-T C-cab delivery van. It is a case of art imitating life. Originally we adapted a drawing by Milton N. Kemnitz (1911-2005) of the truck, which he knew as a little boy because it was the delivery vehicle of a dry cleaner owned by a friend of his father. We chose it as our logo to suggest that we are looking back with reverence to the learning, lore, pace of life, human interaction, and many (but by no means all) of the values of previous generations. It is a fitting symbol for a company where humans still answer the phone because your call truly is important to us, and we want to treat you as we would want you to treat us.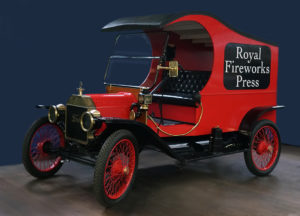 The Ford Model-T, which was unveiled on October 1, 1908, is one of the great symbols of human ingenuity; it comes from a time when people understood the mechanical world, and most people could (and needed to) make a wide variety of repairs to the mechanical things they used. One day in 2015 we got the opportunity to buy the van pictured here. It was yellow and painted with the name of a florist in Fresno, California, where it had sat in a garage for a generation after the owner's death. We jumped at the chance, bought it, and had it shipped across the country to New York, where we took it into our factory. Bill and Lil Schoonmaker, who ran our bindery at that time, undertook to convert the yellow van into the Royal Fireworks red truck. They removed every piece, polished every screw, bolt, nut, and other metal parts, and then reassembled the entire vehicle for its final painting. The importance of its year of manufacture in 1914 is that it was the last year of the brass era for Ford; subsequent models had chrome-plated electric lights instead of the beautiful brass gas and kerosene lamps of our logo.