Why "Royal Fireworks"? What's in a name?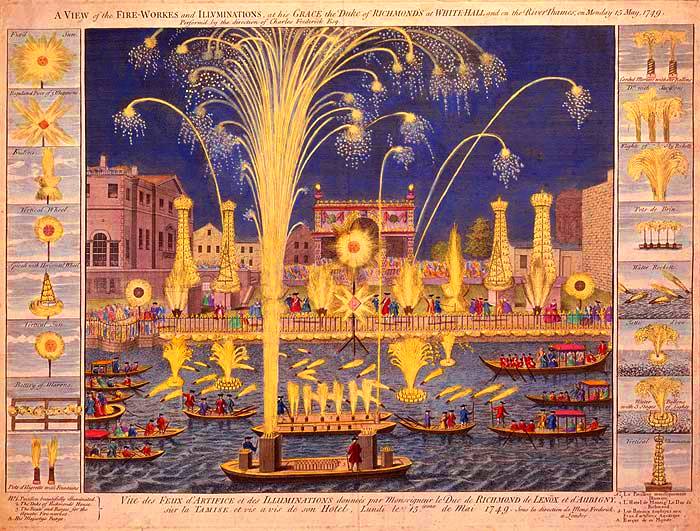 b

y Dr. Thomas Milton Kemnitz

I like Handel very much, both as the first composer of the world in which a paying audience was important and for his music. One of the great pieces of all time is Alexander's Feast—music by Handel, libretto by Dryden. It does not get much better than that. In the days of vinyl, it used to be a Sunday treat. In the days of iPods, I listen to it while I work out. Handel's other oratorios are not bad either, and when Beverly Sills was recording them at the Met, they had a wide currency. Known to almost all is the "Water Music" and the "Music for the Royal Fireworks," and that was the starting point for naming the company.

Royal Fireworks has another significance; in the pre-industrial world in which a key source of entertainment and information came from reading books and newspapers, the most spectacular humanmade thing one could expect to see was a royal fireworks display. In the modern world, of course, this is a minor spectacle. I also very much like the work of W. Hollar, a seventeenth-century etcher (possibly the best of the period save for Rembrandt), and I always enjoyed his 1666 large etching of a royal fireworks display in London.

In the end, company names are designed either to give an ego boost to someone whose name is used or to create a perhaps striking and certainly easily-remembered identity that does not conflict with anyone else's. Royal Fireworks seemed distinctive enough to be remembered and unusual enough that no one else would use it. But for those who understand, Royal Fireworks is also meant to convey a sense of what we consider exceptional—which is what we strive to achieve in everything that we do.