6 January 2023
Philosophy Graphic Novel Wins Award!
What a great way to kick off the new year! We're thrilled to announce that our new interactive philosophy graphic novel by Ingrid Klass, Who Are You Times Two, has been named among the best in family-friendly media, products, and services by the prestigious Mom's Choice Awards®!
"Our aim is to introduce families and educators to best-in-class products and services," explains Dawn Matheson, Executive Director of the Mom's Choice Awards. "The MCA evaluation program is designed to incorporate the expertise of scientists, physicians, and other specialists, but we also engage parents, children, educators, and caregivers because they are experts in knowing what is best for their families."
Who Are You Times Two is the story of Phil the monkey and Soph the tiger, who set off on a journey through space and time to discover the true nature of identity. Who are we, when everything about us is always changing? Phil and Soph travel back in time to meet eminent Eastern and Middle Eastern philosophers from the past who help them understand identity and time. They also get into a bit of trouble, leading to two Phils and two Sophs, a past version and a present version. Who's who? Are they the same? Are they different? Only the wisdom of the philosophers can help them understand and get back to their correct times. Because of the "Choose Your Own Adventure" style of this book, readers can decide which theories to investigate in this outstandingly-illustrated graphic novel.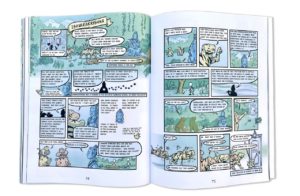 As a special bonus, your child can make the journey alongside Phil and Soph with Ingrid Klass herself as a guide because not only is Ingrid the author of this book, but she's also an instructor in our Online Learning Community. This semester she's teaching two courses using the graphic novel in which students explore fundamental questions of identity, reality, and time. There's a course for children ages 9-11 and one for kids 12-15. Don't miss this special opportunity!
Also be sure to check out our other philosophy books for kids by Ingrid Klass. Each one is beautifully illustrated, each one teaches concepts of mindfulness and ways to find happiness and contentment, and each one is also an award winner!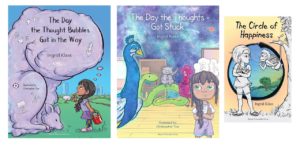 The Day the Thought Bubbles Got In the Way
(for children ages 4-8)
The Day the Thoughts Got Stuck
(for children ages 5-9)
The Circle of Happiness
(for preteens and teens; also a Mom's Choice winner!)
About the Mom's Choice Awards®:

The Mom's Choice Awards® (MCA) evaluates products and services created for children, families, and educators. The program is globally recognized for establishing the benchmark of excellence in family-friendly media, products, and services. The organization is based in the United States and has reviewed thousands of entries from more than 55 countries. Around the world, parents, educators, retailers, and members of the media look for the MCA mother-and-child Honoring Excellence seal of approval when selecting quality products and services for children and families. Learn more about the Mom's Choice Awards by visiting their website: www.MomsChoiceAwards.com.