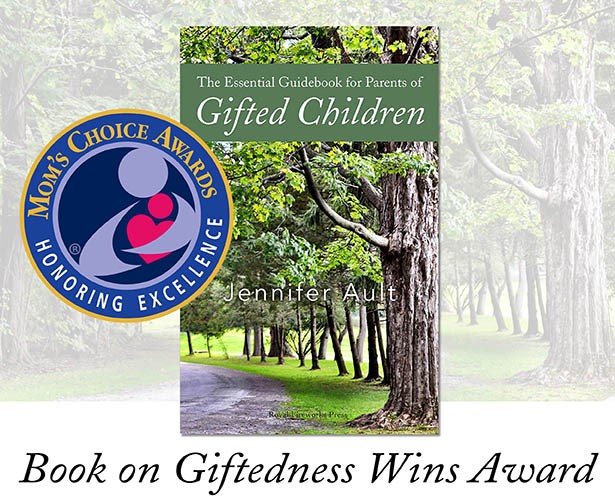 10 March 2021
Royal Fireworks Book on Giftedness Wins Award
We are proud to share the exciting news that The Essential Guidebook for Parents of Gifted Children has been awarded a Gold Mom's Choice Award for excellence! The announcement was made on Monday, securing The Essential Guidebook's place among the outstanding books that Mom's Choice has named as "the best in family-friendly media, products and services."
The Essential Guidebook for Parents of Gifted Children offers parents (and, frankly, any adults) a candid look at what giftedness truly entails. Giftedness is not always pretty, but contrary to old stereotypes, it's not always ugly, either. It's a complex cluster of characteristics, made even more complex by the fact that many gifted children simply don't have some of those characteristics. That said, there are some common, fundamental traits that gifted children share, but because they present so differently from one child to the next, identification can be elusive, and parents can find themselves second-guessing everything they thought they knew about parenting.
But this book isn't simply about identification; it's about who gifted children are. It offers parents the opportunity to learn the fundamental truths about giftedness in the same way that we want to provide information to our gifted children—a way that is intelligent and innovative and never dumbed down. According to the Midwest Book Review, the book is:
"Exceptionally well-written, organized, and presented…thoroughly reader friendly in tone, commentary, and informational content, making it an ideal and unreservedly recommended addition to community and academic library parenting instructional reference collections—and invaluable reading for any parent or guardian of a gifted child of any age or background."
As one parent wrote us:
"It finally reassured me that my child does not need mental help; he needs intellectual stimulation. I had been concerned that he was weird because he was nuts (to use a clinical term), but the great insight for me of this book was that he has a type of giftedness that many others experience, and our challenge is to help him develop in productive ways, not to try to change him. And by the bye, I also got some insight into my own being as I read and remembered incidents from my distant and not-so-distant past. I am grateful for how much it gave me direction and put me at ease about our family and our behaviors."  
Royal Fireworks Press has published books for gifted children since 1977, and we are a leader in the field of giftedness, offering books for children that help them understand and embrace their giftedness. All of our books are geared toward the intellectual, academic, and emotional enrichment of children—but, not unimportantly, we believe that all children, whether labeled gifted or not, want to be challenged, want to learn and grow and become the best versions of themselves, and we strive to produce materials that will further that end. Our website is filled with resources to help you help the children.
Congrats to author Jennifer Ault on the success of The Essential Guidebook for Parents of Gifted Children!