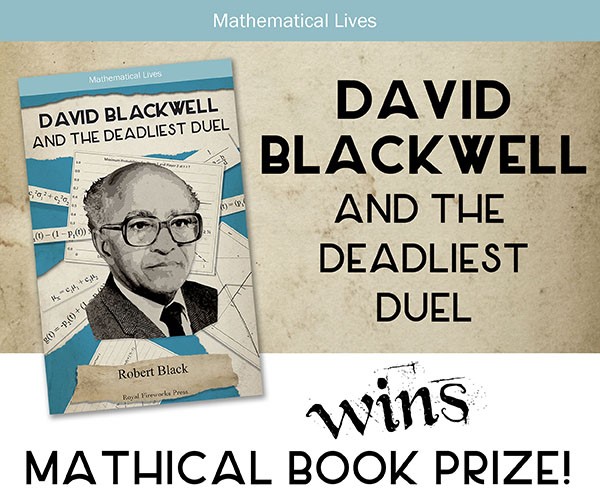 9 February 2021
Royal Fireworks Math Biography Wins Award!
We're thrilled to announce that our biographical novel David Blackwell and the Deadliest Duel has been selected as a 2021 Mathical Honor Book (Grades 9-12)!
The Mathical Book Prize aims to inspire a love of mathematics in the everyday world in children of all ages. Each year's winners join a selective and ever-growing list of new and previously published fiction and nonfiction titles for youth. These titles are as varied as the intersection between literature and mathematics itself, which is to say that they encompass picture books, novels, poetry collections, puzzle books, biographies, and more
The Mathical Book Prize is awarded by the Mathematical Sciences Research Institute (MSRI) in Berkeley, California. MSRI is one of the world's preeminent centers for collaborative research in mathematics. Its mission is to advance mathematical research, foster talent, and further the appreciation and understanding of mathematics.
This winning title by Robert Black delves into the life and work of mathematician David Blackwell. Much of Blackwell's work stemmed from his study of duels. If two people are given guns with one bullet in them and are told to stand apart from each other—Old West style—draw, and fire, is there any way to tell who would emerge as the winner? Blackwell thought it was possible, and he worked on the problem until he had an answer as to what the outcome was likely to be, given a variety of conditions. That sort of thinking infused all of his work, and today he is regarded as a brilliant mathematician whose contributions helped to lay the foundation for new fields such as information theory. That he was an African-American working in the years before and during the Civil Rights Movement makes his accomplishments that much more remarkable.
David Blackwell and the Deadliest Duel is just one of four books written by Robert Black about mathematicians called Mathematical Lives, with more on the way. These books not only tell the story of how individuals rose to preeminence in the field of mathematics but also include explanations of mathematical principles, as well as problems that children can try for themselves.