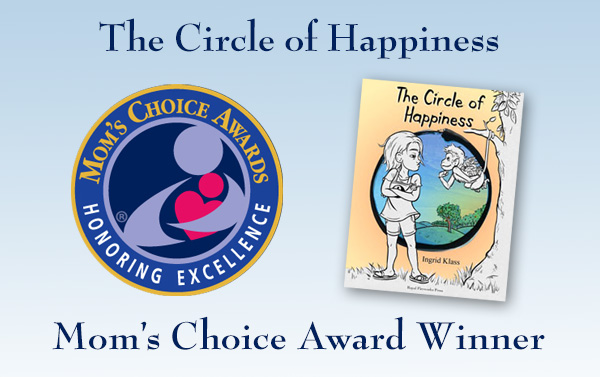 5 April 2019
"The Circle of Happiness" Receives Mom's Choice Award!
The Circle of Happiness by Ingrid Klass has been given a gold Mom's Choice Award! The special emphasis on this award is for "items that help families grow emotionally, physically and spiritually; are morally sound and promote good will; and are inspirational and uplifting."
Beautifully illustrated, the book introduces preteens and teens to the fundamentals of Eastern philosophy in a fun and engaging way. The storyline, centered on the problem of how to find happiness, will draw them in and help them find connection with the concepts.
The book tells the story of Mae, who is spending a day at the park with her family, which is fun…until it's not. She becomes bored and irritated by her annoying little brother and the pesky mosquitoes that abound. She believes that if only she were somewhere else, she could be happy. When a monkey appears and leads her through a circle in the air into another world, Mae is excited to begin an adventure that will help her to find happiness. Almost immediately she regrets her decision—the new world is hot and sticky and has even more mosquitoes. Now she thinks she would be happier back home. Mae's adventure takes a series of unexpected twists as she meets an array of colorful characters, all of whom teach her valuable lessons about what it is that will truly make her happy—no matter where she is.
The Circle of Happiness is supported by a Travel Guide that follows Mae's adventures in the accompanying novel and explains the philosophical foundations of what she is learning. The characters that Mae meets are representational of several important Eastern philosophical figures, including the Buddha, Mahavira, Charvaka, Goshala, Confucius, Lao Tzu, and the Upanishadic philosophers. This guidebook provides in-depth discussions about their lives, the historical context of the time period in which they lived, and their philosophies on what it means to be happy—and what it takes to get that way. It also includes discussion questions for each chapter that will have young thinkers pondering important questions about what happiness means to them. This is a good introduction for preteens and teens to the fundamentals of Eastern philosophy in the context of the question of how to find happiness.
The lessons youngsters learn as they follow Mae on her journey will stay with them for a lifetime.